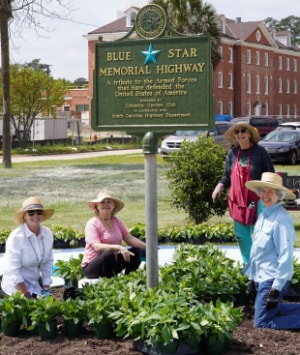 Blue Star Memorial Highway Marker
Years ago, the club installed a Blue Star Highway Marker and last year we moved it to the Veteran's Hospital Complex on Garners Ferry Road. The prominent marker location was chosen to be a part of the nearby Fisher House, presently under construction. The site will be the starting point of a fitness track, built in conjunction with the Fisher House, which will encompass the entire grounds of the complex.
This project involves the maintenance and plantings in the Spring and Fall, which continue the red, white and blue 5-star theme. The project involves history, civic beautification, community service, native plants, horticulture, landscape design and the merging of local, state and national communities.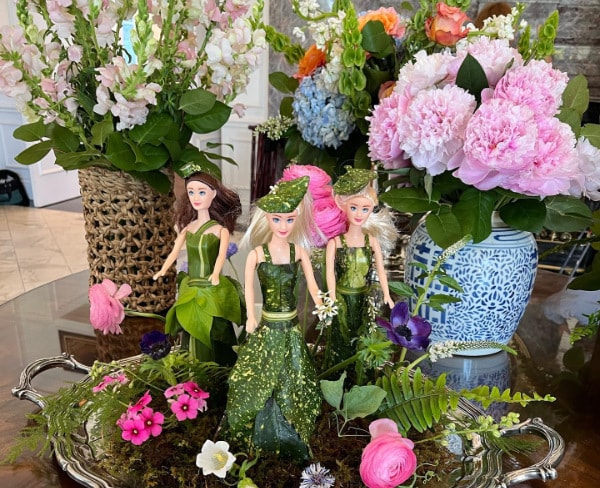 Floral Design, Community Outreach, Special Arrangements
The Columbia Garden Club offers many opportunities for the members to showcase design skills and talents, as well as, learn new skills and teach fellow members. Members learn how to cut greenery, collect natural elements, and arrange them with flowers. Each year, the club decorates the Governor's Mansion for the holidays, designs floral centerpieces for every board and general meeting, and provides floral arrangements for special occasions for local charitable entities.
Project involves civic beautification, community service, coordination with other community organizations, floral design, and horticulture.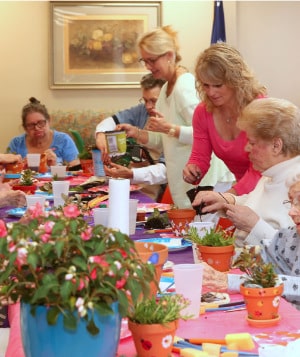 Garden Therapy
With funding from the general membership, members coordinate monthly horticultural therapy projects for the senior residents of Christopher Towers.
Project involves horticultural therapy, community service, coordination with other community organizations, flower arranging and education.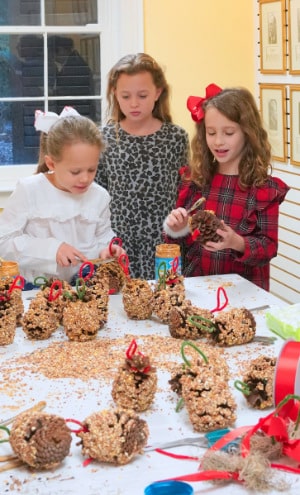 Junior Garden Club
Members participate in this decades-long project by promoting the love of gardening among children and grandchildren of members. During the holiday season, children are encouraged to decorate a special outdoor tree at the Governor's mansion with birdseed ornaments. The members also support youth projects of the Garden Club of South Carolina such as Camp Wildwood and the High School Essay contest.
Project involves encouraging garden club work among youth, birds and
pollinators, education, protection of natural resources.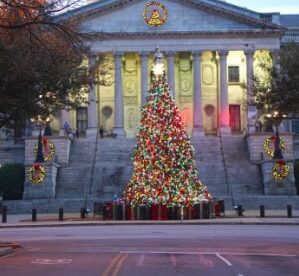 State Christmas Tree
The club provides funds annually to procure, decorate & maintain the State Christmas Tree on the grounds of the State Capital. Members participate in funding, decorating, maintenance, and attending the Governor's Carolighting celebration. This is a joint project with the Garden Club of South Carolina.
Project involves community service, civic beautification, and coordination with other organizations.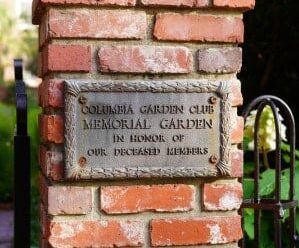 USC Memorial Rose Garden
This garden, established in 1960, is located at Lieber College on the University of South Carolina Horseshoe. The club planted the garden in memory of deceased members of the club and dignitaries of the university. Members of the club participate financially through annual donations and by assisting in maintenance of the garden, selection of new plants, and making memorials in the form of engraved pathway bricks. The club keeps a leather-bound book listing all members memorialized at the garden.
Project involves community service, coordination with other organizations, civic beautification, landscape design and gardening, and support of community gardens.