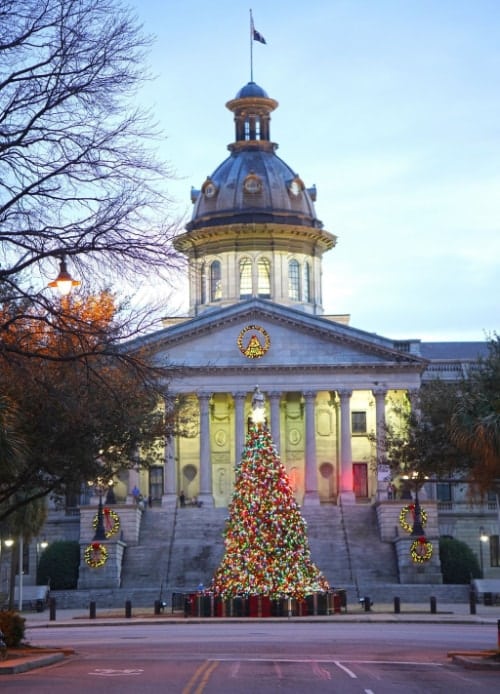 State Christmas Tree
Every Christmas Season, The Columbia Garden Club selects and decorates the State Christmas tree from those offered from growers throughout the State. The Governor's Carol Lighting is then held on the SC State House grounds to share in the season and light this magnificently decorated tree.
Governor's Carol Lighting
SC State House Grounds
Sunday, November 19, 2023
6:00 p.m.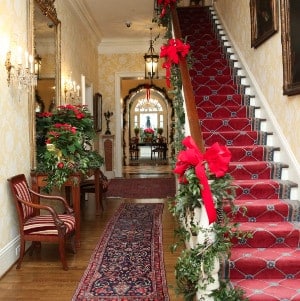 Christmas at the Governor's Mansion
Every Christmas season, The Columbia Garden Club decorates the Governor's Mansion for the First Family and the public to view during an open house. The club also holds a tea to celebrate its work. The members participate by funding 100% of these activities, designing and installing the decorations, and providing hostesses for the tea and open house. This service to the community and the State of South Carolina is a tradition lasting for over 35 years.
Project involves civic beautification, floral design, history, historic preservation, horticulture, coordination with other organizations, and encouragement of garden club work among youth.
Christmas at the Governor's Mansion
800 Richland Street
Monday, December 4, 2023
5:30 – 7:30 p.m.
Open to the Public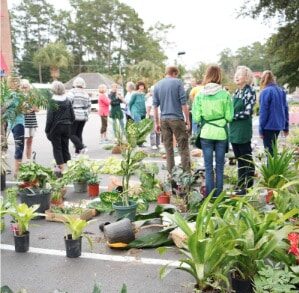 Plant Exchange
Twice a year in the spring and fall, the club holds a community plant exchange. Members and the community participate in this project by sharing plants, seeds, and cuttings from their gardens. Members staff the exchanges and advertise the event for the community. Master Gardeners are on site to answer questions about plants. The Plant Exchange has recently featured native plants. This has been an ongoing community service project since 1927.
Project involves civic beautification, conservation of natural resources, public education, horticulture, wildflowers, native plants, and advancement of the art of gardening.
Saturday, Nov. 4, 2023
Parking Lot of Talbots in Forest Acres
4809 Forest Drive – Next to First Citizen's Bank
Donations accepted 9:15 – 9:45 a.m. 
Exchange begins at 10:00 a.m. SHARP!
Come to exchange Annuals, Perennials, Trees, Shrubs, Herbs, House Plants, Bulbs and Rootings
ATTENDANCE AND EXCHANGES FREE OF CHARGE
Please bring plants labeled to share and swap including iris, herbs, seeds, houseplants, roses, rooted camellias, azaleas and others. No invasive species.
We're grateful to Talbots for hosting our events.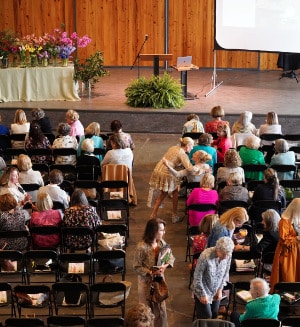 2024 Symposium
The Columbia Garden Club Foundation announces the 2024 Flowers with Friends is scheduled for Wednesday, February 28th.
We are excited to share that our speakers this year will be Charlotte Moss, Lindsey Taylor and Tricia Hunt. We are looking forward to introducing you to these three incredible women over the next few months and hope that you will be as excited as we are to have this unbelievable opportunity.
Please mark your calendars and help spread the word! Look for more details to come. Tickets will go on sale in December.